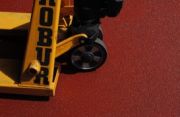 A wide range of non slip resins and coatings.

Various non slip boards, tapes and plates for step safety.

A wide range of safety tapes, including photoluminescent for all types of service conditions.

Non slip boards, decking strips and self adhesive sheeting.

Accessories for use with Robex Products.

Your Basket:
0 items - £0.00
Checkout
Your Account:
»
Login / register here
Search:
Information
Catalogue
Download our latest catalogue in PDF format or request a printed copy.
Visits
Our unique service lets you request an expert to visit your site and provide product advise.