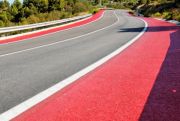 Coatings for asphalt, concrete and block paving.

A range of easy to use roof coatings for use in all weathers.

Hygienic wall and floor coatings.

Single pack acid free rust treatment and self priming resin system to guard against rust.

Anti-Condensation Paint

Accessories for use with Robex Products.

Your Basket:
0 items - £0.00
Checkout
Your Account:
»
Login / register here
Search:
Information
Catalogue
Download our latest catalogue in PDF format or request a printed copy.
Visits
Our unique service lets you request an expert to visit your site and provide product advise.