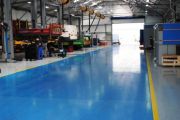 Economical floor coatings including single pack and twin pack epoxies.

A range of coatings for industrial use - suitable for aggresive environments.

Coatings to protect against a wide range of chemicals.

Your Basket:
0 items - £0.00
Checkout
Your Account:
»
Login / register here
Search:
Information
Catalogue
Download our latest catalogue in PDF format or request a printed copy.
Visits
Our unique service lets you request an expert to visit your site and provide product advise.